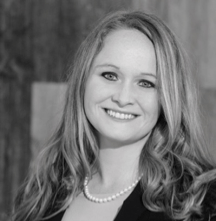 Cameron A. Bonney Evans joined the firm in 2020.  She is a graduate of one of the top-ranked undergraduate business schools in the country, the University of Virginia, McIntire School of Commerce in Charlottesville, Virginia.  There, she received her Bachelor of Science, with distinction, in Commerce.  She then attended the College of William and Mary, Marshall-Wythe School of Law where she received her Juris Doctor and graduated magna cum laude in 2016. While in law school, she was a member of the Business Law Review and served as an Articles Editor.
Ms. Bonney began her career at a well-respected regional law firm representing many large local businesses and focusing her practice on Title VII discrimination, disability discrimination, retaliation, and FLSA claims.  She now represents federal employees as they navigate the EEOC process, file MSPB appeals, and participate in union activities.
In her personal life, Ms. Bonney likes to spend time with her friends and family, especially her husband, daughter, and fur babies, Bella and Molly.  She enjoys living near the beach and spending relaxing time outdoors, as well as fostering animals through local animal rescues.